Description
High Potency Broad-Spectrum Probiotic.
Twelve human probiotic strains to support both upper and lower GI health. 50 billion CFUs per delayed-release vegetarian capsules. Non-dairy, gluten-free, and stable at room temperature - no refrigeration required.
This formula utilizes only non-GMO probiotic strains, which are neither derived from nor produced using genetically modified organisms (GMOs), or their derivatives.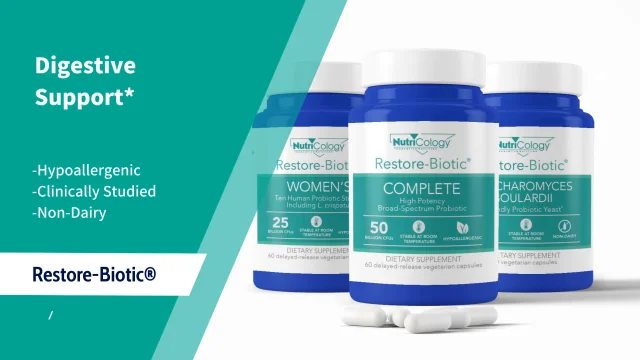 Supplement Facts:
Serving Size: 1 capsule
Servings Per Container: 60
Amount per serving:
Proprietary blend: (50 Billion CFU)
Lactobacillus plantarum UALp-05™ 150.88 mg
Lactobacillus acidophilus DDS®-1
Bifidobacterium lactis UABla-12™
Lactobacillus paracasei UALpc-04™
Lactobacillus casei UALc-03™ 
Lactobacillus rhamnosus UALr-18™
Bifidobacterium breve UABbr-11™
Lactobacillus salivarius UALs-07™
Bifidobacterium bifidum UABb-10™
Bifidobacterium longum UABl-14™
Streptococcus thermophilus UASt-09™
Lactococcus lactis UALl-08™
Other ingredients: Hydroxypropyl methylcellulose, water, gellan gum,

microcrystalline cellulose, Nu-MAG® (rice extract, rice hulls, gum arabic,
sunflower oil), silica.
Keep in a cool, dry place, tightly capped.
DDS® and all UA-trademarks are trademarks of UAS Laboratories LLC and used under license.
Suggested Use: As a dietary supplement, 1 capsule one or two times daily, or as directed by a healthcare practitioner. May be taken with or without food.
DRCAPS™ & logo are trademarks of Lonza or its affiliates.
Nu-MAG® is a trademark of RIBUS, Inc.
Payment & Security
Your payment information is processed securely. We do not store credit card details nor have access to your credit card information.