Description
Imbalances in the flora of the digestive system, caused by antibiotics, stress and processed food, can lead to candida overgrowth, causing digestive issues and food allergies
Anti-Fungal & Anti-Candida cream is formulated with

 

therapeutic dosages

 

of the active ingredients to make a positive change
Effective against

 

fungal skin infections, athlete's foot, ringworm
Effective againsts

 

Candida and

 

Aspergillus-based overgrowths
Zetpil™ Cream Advantage
Zetpil™ delivers nutrition through the skin with the use of deep-penetrating, ultra-absorbable creams that have a unique, proprietary formulated base that has revolutionized not only this mode of delivery, but also the ability to obtain nutrients in a far more efficacious method.  These creams are a result of combining natural ingredients with a non-irritating, rapidly absorbable, antioxidant base material and delivering the nutrients directly into the bloodstream in less than 10 minutes in a highly effective manner. Oral supplements are exposed to the hazards of stomach acid, digestive enzymes, food-related breakdown, first pass metabolism, and other bioavailability issues in the gastro-intestinal system.
Additionally, many raw materials simply have a very low bioavailability , and only achieve around 10% or less absorption rates, even if the patient is in optimal health condition. Compromised health, age, or certain conditions that result in an inability to take oral nutrients often preclude these patient populations from obtaining the necessary nutrition to stay healthy which often exacerbates chronic health issues.
Zetpil™ deep penetrating creams, are a NOW solution to delivering the necessary nutrients to patients, on a daily basis, that is both easy and cost effective.
Candida albicans is a simple yeast organism commonly found throughout the environment and on your skin and in your mouth, vagina and intestinal tract. Candida albicans is a normal, "friendly" organism, and is one of many organisms that make up the flora of a healthy intestinal tract.  As imbalances occur,  as the result of antibiotic use, medications, stress, and a processed food diet, the friendly bacteria become overtaken by candida yeast, exploding in a growth frenzy throughout the intestinal tract and, eventually, throughout the entire body.  Candida yeast fungi, which are stronger than the beneficial bacteria, survive medications or stressful conditions and begin to thrive. Ultimately this leads to poor digestion, "leady gut syndrome" and food allergies. http://www.candidayeastinfection.com/candida-yeast-infections-what-you-need-to-know/
What are the Symptoms of Candida Overgrowth?
Candida overgrowth can be hard to diagnose because the symptoms are very common with other health complaints, as shown below:
Headaches and/or Migraines,
Sinus, Ear or Eye Infections,
Frequent Urinary Tract Infections (UTIs),
Toenail, Skin or Jock Itch Fungi,
Food Allergies,
Depression,
Fatigue or low energy state in spite of adequate sleep and rest,
Abdominal bloating and/or Pain, and
Recurring Vaginal Yeast Infections.
The Simple Candida Home Test
In the evening, put a clear glass of water by your bed. First thing in the morning, briefly rinse your mouth, swallow, then gather some saliva in your mouth and spit into the glass of water (be sure to spit out saliva, not mucus). Keep an eye on the water for half an hour — especially the first few minutes. If you have candida overgrowth, you will see one or more of the following: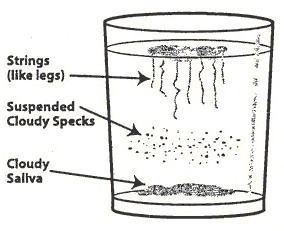 1.Strings (legs) hanging down from the saliva.
2. Heavy-looking saliva at the bottom of the glass.
3. Cloudy specks suspended in the water.
If, within three minutes after spitting into the water, you see "strings" hanging down, cloudy specks showing up in the water, or "debris" sinking to the bottom, you most likely have extensive overgrowth, which will require more candida-fighting action on your part.
If it takes longer than a few minutes for anything to show up, the candida is not as serious.
If the saliva just floats on top and the water stays perfectly clear, you most likely don't have candida overgrowth. http://www.candidayeastinfection.com/candida-test-how-to-tell-if-you-have-candida/
What are the problems with current standard of care therapies for Candida?
"Several antifungal agents are used to treat oral Candida infection,  including nystatin, amphotericin B, clotrimazole, miconazole, itraconazole, fluconazole, and ketoconazole." However, despite their (relative) effectiveness, "these drugs may produce adverse effects such as bitter taste, allergic reactions, drug interactions, increased fungal resistance and high cost."  Therefore, natural products have been investigated as important alternatives for the treatment of this pathology. http://www.ncbi.nlm.nih.gov/pmc/articles/PMC4391323/
Why is Zetpil™'s Anti-Fungal & Anti-Candida Cream so Effective?
This deep-penetrating, ultra-absorbable cream's ingredients are active against fungal skin infections, athlete's foot, ringworm and a host of other fungal pathogens, including:
Candida Albicans
Candida krusei
Candida parapsilosis
Candida tropicalis
Candida neoformans
Aspergillus fumigatus
Aspergillus flavus
Aspergillus niger
Trichophyton
Most natural anti-candida formulations do not formulate products with the required therapeutic dosages of active ingredients to make a positive change in the condition.  Zetpil™ formulated the Anti-Fungal & Anti-Candida cream not only with therapeutic dosages but also formulated it to work against a host of fungal infections making this product a more comprehensive attack against Candida.
Supplement Facts
Serving Size: 1-2 squirts
Ingredients: Distilled water, sunflower oil, medium chain triglycerides oil, wheat germ oil, shea butter, rosemary oil extract, grapefruit oil, orange oil, potassium sorbate, undecyclenic acid and a proprietary blend of niacinamide, arginine, manganese aspartate, creatine, pantothenic acid and folinic acid
Dosage and Use:
1 squeeze/squirt is the equivalent of 1/2 teaspoon (2.8 grams).
Warnings:
Although safe for children, this product should be kept out of the reach of children.
If pregnant or lactating, consult your physician before taking this product
For topical use only
Avoid eyes and mucous membranes
Do not exceed recommended dose
If you experience any adverse reaction, discontinue use of the cream and contact your healthcare provider.
Disclaimer: These statements have not been evaluated by the FDA. This product is a Federal Food, Drug, and Cosmetic Act compliant combination of naturally derived FDA GRAS (Generally regarded As Safe) herbal, nutraceutical, vitamins, minerals and amino acids products legally sold in the USA.  In accordance with FDA regulations, when taken orally, this product may be considered a dietary supplement as defined by section 201(ff) of the Act, 21 U.S.C. § 321(ff).
Also, this product consists ONLY of a combination of naturally derived FDA GRAS (Generally regarded As Safe) herbal, nutraceutical, vitamins, minerals and amino acids products legally sold in the USA. Therefore, this product cannot be considered a drug as defined in section 201(g)(1) of the Act, 21 U.S.C. § 321(g)(1). This product is not intended to affect the structure or function of the body and is not intended for use in the diagnosis, cure, mitigation, treatment or prevention of disease in man. Any nutritional suggestions and research regarding this product are provided for informational purposes only, and are not intended to diagnose, treat, cure or prevent disease nor should any information provided be used as a  substitute for sound medical advice.
Payment & Security
Your payment information is processed securely. We do not store credit card details nor have access to your credit card information.